50th Anniversary News
Just over fifty years ago a group of faithful Christians began to gather together to pray for the city of Toronto.

As they listened for God's leading they identified the need for faith-based counselling services to assist individuals, couples, and families in dealing with the contemporary challenges to emotional, relational, and spiritual health and well-being.

From a small beginning CCS has grown to include thirteen professional therapists trained to deal with a wide range of therapeutic issues, a committed board and administrative staff, and a thriving intern program for students enrolled in a graduate level therapy or pastoral care programs.

We currently provide more than 5,000 hours of counselling per year while continuing the practice at the heart of our mission of operating on a sliding-scale and making our services available regardless of a person's ability to pay for counselling from their own resources.

50th anniversaries provide an occasion for reflection and celebration, and we'll be celebrating this year by hosting an Anniversary Event, facilitating staff-led Workshops, and launching the Ken Van Wyk Legacy Fund. We invite you to come and celebrate with us!


Anniversary Event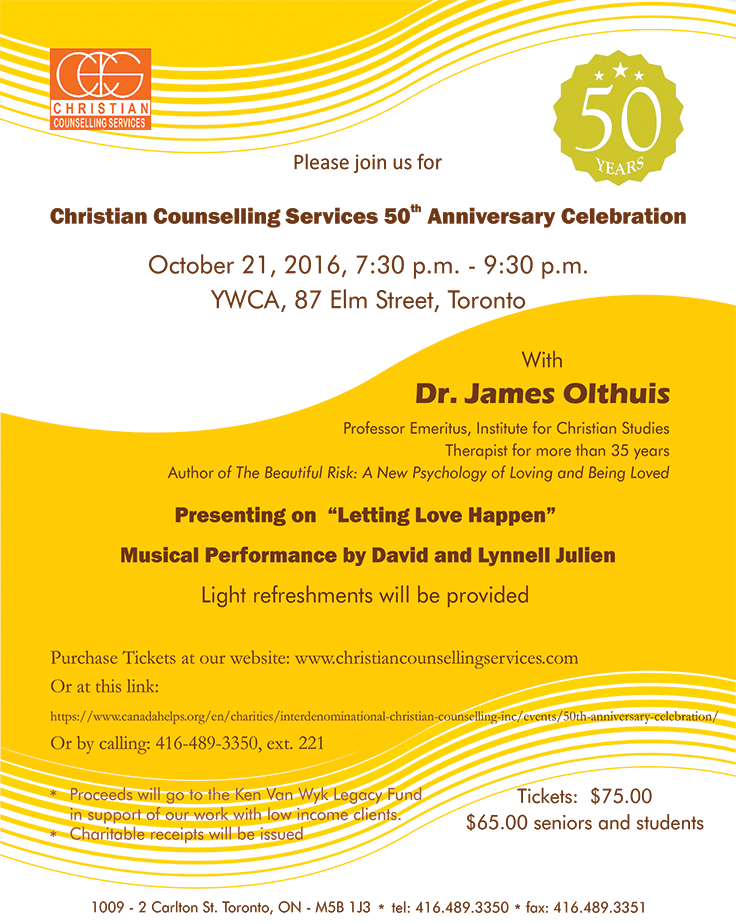 Workshops


Details coming soon

Ken Van Wyk Legacy Fund

We are fundraising to support our on going work with persons who are unable to pay even our minimum fee from their own personal financial resources. We are pleased to announce that the fund will be named in honour of our Executive Director Ken Van Wyk for his 43 years of dedicated service at Christian Counselling Services. Our goal is to raise $50,000 in our 50th year.

1) To make a donation through Canada Helps, please click here.

2) To print a donation slip, please click here.

3) To inquire about making a donation please call our office at 416-489-3350 ext. 221

Thank you so much for your generous support.